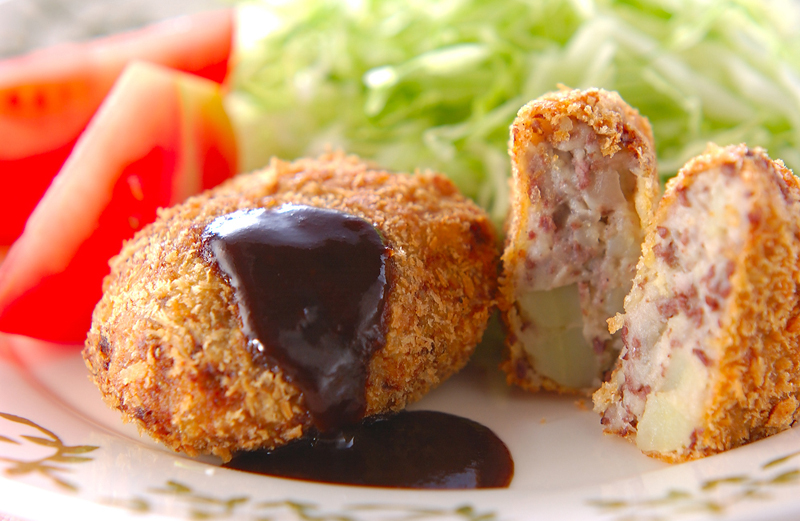 Croquettes are deep fried breadcrumb covered patties usually made from mashed potatoes and ground beef. This western food was introduced to Japan in the 19th Century where it became known as
Korokke
(コロッケ). Here's a simple Japanese style korokke recipe you can make at home. Serve with
tonkatsu
or
okonomiyaki
sauce(like Worcestershire sauce), shredded cabbage, and rice and if you like, miso soup.
Serves 4
Ingredients:
5-6 oz. (150g) ground beef
3-4 potatoes
1 onion
salt
tonkatsu sauce
cabbage
flour
egg
breadcrumbs
Directions:
Peel the potatoes and cut into small chunks. Boil in a pan for about 10-15 minutes or until soft.
Drain and mash the potatoes in a bowl.
Finely chop the onion and fry together with ground beef in a pan. Add salt to taste. Drain excess oil.
Add ground beef and onions to mashed potatoes and mix well.
Form mashed potato mixture into rolls or patties.
Dip patties first in flour, then beaten egg, an finally breadcrumbs.
Fry in oil at 350

°F(180

ºC)

until golden brown. Drip off or towel off excess oil.
Serve with tonkatsu sauce, shredded cabbage and rice.