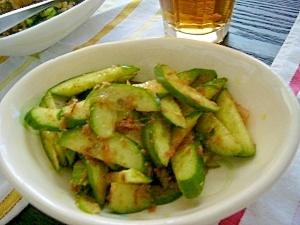 Here is a super easy 5 minute Japanese cucumber pickles recipe. It's actually more like a mini salad than pickles. Great for summer or anytime. A healthy last minute side dish.
Serves 4 20 cal./serving
Ingredients:
1-2 cucumbers
1 tsp. white sesame seeds
2 Tbsp. soy sauce
5 rounded Tbsp. loose bonito flakes(hana-katsuo/katsuo-bushi)
1 tsp. sesame oil(optional)
Directions:
Toast sesame seeds. Partially peel and seeds cucumber, then quarter lengthwise. Cut into bite size wedges. Pat with a dry cloth to remove excess water.
Combine cucumber, soy sauce, sesame seeds, and bonito flakes in a bowl. Add a little sesame oil for extra taste. Mix well.
Cover and refrigerate for 20 minutes before serving.