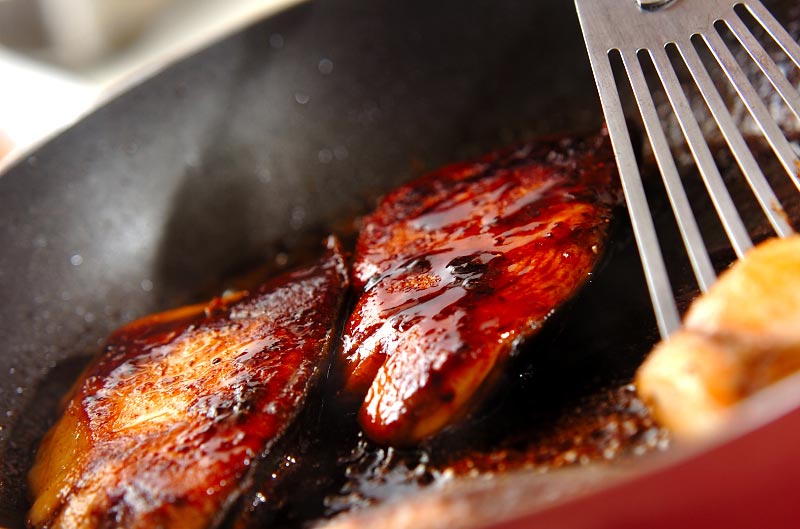 With so many kinds of fish available and eaten in Japan, buri(ぶり), with the rather unimpressive English name yellowtail, is simply one of the most delicious fish I ever had. And buri teriyaki(ぶり照り焼き) is one of the very best ways to eat this fish. It almost doesn't taste like fish, but some kind of meat. With this recipe, you could easily substitute any fatty fish, tuna steaks would be good. This recipe calls for broiling in a pan, but grilling would be equally good, if not better. If grilling the fish, make sure to repeatedly brush on the marinade sauce.
Ingredients:
4 yellowtail, salmon, or tuna steaks, about 4 oz. (115g) each
3 Tbsp. vegetable oil
sweet, pink, vinegared ginger pickles (amazu-shoga), (optional)
Marinade
4 Tbsp. soy sauce
4 Tbsp. mirin(sweet cooking sake)
2 Tbsp. sake
1 Tbsp. sugar
Directions:
Combine marinade ingredients in a bowl. Stir until sugar dissolves. Pour marinade over fish and refrigerate for 60 minutes, turn fish after 30 minutes.
Drain fish and save the marinade. Heat oil in a pan over medium heat. Add fish and cook until lightly brown(about 2 minutes). Turn once, cover, and reduce heat to low and cook about 5 more minutes until done. Remove fish.
In a clean pan add marinade and bring to a boil over high heat. Add fish and cover with marinade well, then remove from pan.
Serve with a garnish of sweet ginger pickles or greens and a hearty spoonful of marinade over each fillet.