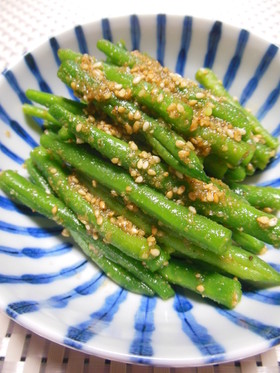 In America, I only knew sesame as something on hamburger buns, but Japanese cooking opens up a whole new world with sesame. Sesame sauces and dressings give food a wonderful flavor and aroma. It turns normal green beans into a new exciting side dish, Ingen no goma-ae(いんげんのごまあえ). You can probably find ground sesame at your local Asian grocer, if not, you can make it yourself with this simple recipe. This is a great dish for dieters and vegetarians.
Serves 4 85 cal./serving
Ingredients:
1/2 lb(225g) fresh green beans
mirin
Sesame dressing:
4 Tbsp. white sesame seeds
1-1/2 Tbsp. dashi bonito stock
1 Tbsp. sugar
1 Tbsp. soy sauce
Directions:
Sesame Dressing:Toast and grind sesame seeds. Mix other ingredients with sesame paste.
Wash and trim green beans. Cut in half diagonally. Cook in water with some salt until beans are tender and crisp. Drain and sprinkle with a little mirin.
Mix green beans and sesame dressing thoroughly and serve.